Lubricated For Life – Zero-Max Right Angle Gear Drives
Lubricated for life is one of many features of Zero-Max "Crown" gear drives. Motion system designers looking for a smooth operating, quiet right angle gear drive will find Zero-Max "Crown" gear drives the ideal choice.
Lubricated for life with Beacon 325 premium grade grease, Zero-Max Crown drives feature heat treated AGMA Class 10 spiral bevel gears. This combination of bearing design and lubrication formulation ensures long-term, maintenance free operation for high performance, industrial applications. The drives feature long-life, precision hardened and ground ball bearings handling speeds up to 2000 rpm in most operating environments. The internal gears are permanently mounted to the shafts with locking pins. This provides a very resilient and durable connection for use in heavy load applications while requiring no maintenance.
Lubrication with Beacon 325 grease ensures optimum performance in temperature ranges from -50° C to +120° C without evaporation. This is especially important in sealed for life systems using motors, generators and similar equipment in industrial applications.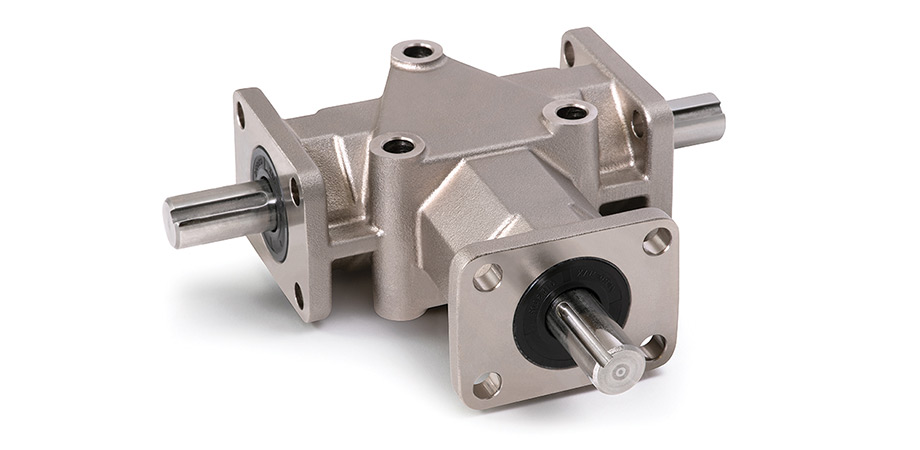 Zero-Max ensures their drives are predictably smooth operating, and similar model sizes have identical performance characteristics when designed into multiple drive setups. To accomplish this, Zero-Max drives are precision assembled for perfect bearing and gear alignment. The drives are pre-lubricated during assembly, then completely enclosed in a heavy-duty anodized aluminum housing. This design ensures that internal gears stay permanently aligned, lubricated and free of contamination from outside debris.
Zero-Max Crown drives are ideal for a wide range of machine applications including food processing, packaging and material handling systems. Available in many sizes and models, they are ideal for a wide range of horsepower, torque and shaft speed requirements. Standard two and three way models are available with 1:1 and 2:1 speed ratios in shaft diameter combinations of 3/8, 1/2, 5/8 and 3/4 inch.