The bodyguard for your connection
High efficiency agricultural air seeders and fertilizer applicators incorporate the latest Zero-Max Overhung Load Adapters.
They handle high speeds and provide impeller support for optimal operation of the hydraulic motor and the system's blower chamber resulting in ideal seeding and fertilizing application. Engineered for high rate seed and fertilizer systems with varied application rates, the system's blower fan must operate at a regulated speed according to the amount of seed or fertilizer being applied.
With a speed range up to 4500 rpm, the Overhung Load Adaptor ensures the hydraulic motor delivers smooth rotation to the impeller and consistently delivers the required air flow. With a variety of seeds and fertilizers being used over a wide range of application rates, the Overhung Load Adaptor ensures that the system performs at the correct chosen rate.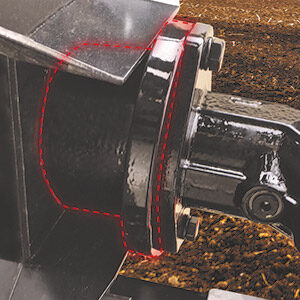 Additional important benefits of the Overhung Load Adaptor include support of the impeller load thus extending lifetime of the hydraulic motor bearings and seals. The mounting features simplify construction of the blower mechanism as a proven solution while saving space and it eliminates the need for using a coupling and support device to make the connection. Also, the Overhung Load Adaptor provides a contamination barrier by separating the hydraulic motor from the blower chamber. Seals are thereby protected and hydraulic fluid is kept away from the blower chamber.
Designed for either face or foot mounting, Overhung Load Adaptors are available in over 50 standard models. SAE mounts available include A, B, C, D, E, and F mounts with 2 or 4 bolt mounting flanges. They are also available with many shaft variations including splined, threaded, tapered, and extended output shafts. Special input bores and housing modifications and non-SAE mount housings are availabl as well. Manufactured to ISO 9001: 2015 standards, Zero-Max Overhung Load Adaptors are ruggedly built, with shafts precision machined from high quality 130,000 PSI stress-proof steel.
All custom Overhung Load Adaptor designs include a detailed CAD approval drawing submitted prior to manufacture. In addition to air seeding and fertilizing applications, there are many other Overhung Load Adaptor applications subjected to difficult and hostile operating environmental conditions. Zero-Max Overhung Load Adaptors are widely used in agricultural machinery, workboats, recycling systems, forestry mulchers and chippers, road paving equipment, industrial conveyor drives and many others where hydraulic systems require radial and/or axial load support and seal protection.